Tim Tentcher has led Guelph health and program development in the community for over 25 years. His unique approach provides effective supportive counselling using a blend of Cognitive Therapy, Positive Approaches, and Life Planning. This, combined with his medical nursing knowledge of medication issues, can help you and your family deal effectively with mental health concerns. Counselling Guelph residents has been Tim's work for over 25 years!
Scroll down if you would like to see what makes Tim's approach for counseling Guelph different and more effective for long-term recovery from mental health challenges.
We Have Been Counselling Guelph Many Years -Enjoy My Short Video
Tim's researched approach helps shine the light of reason onto life's shadows. He has been counselling Guelph for many years and loves what he does!
Throughout his career, Tim has designed innovative programming while counselling.
He was a founding member of PSR (Psychosocial Rehabilitation) Canada and has been at the forefront of educational and conference development.
He developed Guelph's first cognitive therapy group with Dr. Watt, former CEO of the Homewood Health Centre and was the founding member of the first inter-agency team that developed an effective community treatment approach for people with a variety of mental health issues and dementia (Trellis, now CMHA, and Homewood out-patient service).
Before working at Homewood Health Centre he was a brother in a religious order of contemplative monks, an experience that gives him a unique faith-inspiring perspective. Tim's faith perspective is only offered by request from those he serves and while his general approach is not religious, it builds faith and hope as we battle the shadows within.
What Makes Tim's Approach For Counselling Different
Every person we see does a Values in Action Survey: Values in Action connects to positive psychology. Research shows that we need to know our values and put them to work. This is what makes us feel good. It motivates us to do something we believe. It raises our mental health and helps us get on with life despite the fact we feel unwell.
We take responsibility for helping people change: We have found many therapists blame the person with the mental health concern stating " They are just unmotivated." We have people with symptoms are not very motivated and this why they need support not blame. Our job is to give hope and build confidence.
We focus on strengths, not symptoms and illness: We look at what is good about the deepest core of the people we support! Not just symptoms of a mental health illness!
We are recovery focused: Recovery from anything is about getting on with life. It is not waiting for everything to get better. Things will get better then some days it will get worse. Sh-t happens we have to face and deal with it. Counselling residents for so many years has shown us that many mental health therapists and doctors do not work in this framework. We need to not expect all to be well because it can never be. We need to live as best we can and focus on what makes us feel good our values and strengths.
We build GRIT: GRIT is being able to see the long-term goal and stick with it. It connects to life goals as well as recovery from a significant mental health issue. Recovery takes time and focus. You need GRIT to move on from a persistent mental health issue. Our mind needs to become retrained when things are stuck in it like a persistent scratch on a record album.
We focus on faith: The approach we use is faith-focused. We need faith in ourselves to recover from mental health challenges. We also need faith in something beyond ourselves. Tim is Christian and does Christian counseling if the people needing support want to look at things from a faith-based approach. Faith cannot be pushed when seen from a spiritual perspective. We never force belief on anyone. Tim also works from an interfaith modality.
We help families recover with the individuals we support: Our approach likes to draw in members of the family if the individuals we support wish. We find families that recover together are more likely to sustain wellness. To recover together means we support the family member as many times it is hard to live with someone who has had persistent mental health challenges. The recovery plan needs to keep the whole family unit well! We found over the years counselling this approach has been very effective. We do not force the family to work together if individuals do not wish it. If we can go in that direction outcomes have been very good for sustained recovery from long-term mental health issues.
We integrate life planning: Mental health recovery needs a good life planning linked to it. Some people call it life coaching. The issue with life coaching is they do not know how to effectively integrate mental health treatment into life planning and life goals. WE DO!
 Tims Credentials For Counselling
Dr. Amen University Graduate using brain science for counseling in Guelph 
Certified Psychiatric Rehabilitation Practitioner (CPRP)   counselling Guelph for many years
Advanced Motivational Interviewing Skills & Strategies, School for Addiction Studies, Certificate of Completion (2002) for counselling in Guelph
Community Mental Health Multidisciplinary Program, Conestoga College (1996)
Diploma in Addiction Studies (AdDipTT), McMaster University (1993)
Certificate of General Social Work (CSW), Renison University College (1989)
Registered Practical Nurse (RPN), Conestoga College (1989)
There is no wait-list and our rates are affordable and flexible with your budget.
Our office is located in Guelph. If you live in Guelph or the surrounding areas of Kitchener-Waterloo and Cambridge, we offer in-home or office consultations. We never leave people waiting. Our promise is to call you within one business day and give an appointment that week!
We offer affordable flexible rates based on your income and what you can afford.
Our fees range from $60.00 – $200.00 a session.
If your income is under $15,000 please contact us to discuss alternate affordable options.
A person seeking counselling in the Guelph area will find services range between $80-$250 dollars per session for 50 minutes in length.
Phone consultation
If you live outside of Guelph area, or if you'd prefer a telephone consultation, we offer phone support across North America. For more information or to arrange, contact us. No need to find a psychiatrist in Guelph as we will work with your family doctor.
Online consultation
You can get the help you need from the comfort of your home. Contact us to learn more about how I can help you via Skype chat.
Tim has been counselling Guelph for many years now. The approach used has been very effective and connects to his book Picture Your life.
Check out Tim's book click here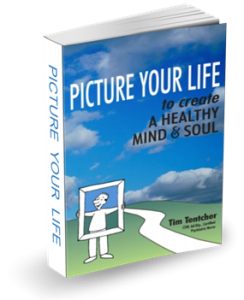 Take a look at this small section of Tim's book:
"Researchers tell us that to have positive emotions we need to live a life that has meaning and that is engaging. For thousands of years, poets, prophets, musicians, and scholars from all religions have written about how to be happy or what will make us happy. Some of the research from the Positive Psychology movement has demonstrated a connection with ancient wisdom. For example, our life needs to be engaging. We need to focus not only on what we have and what we want, although these things are a small part of happiness. But our focus also needs to be for "the greater good" and it should connect to something beyond ourselves. Research shows that first and foremost, the happiest people focus on something beyond themselves. Beyond that, they have a good supportive marriage and a partner they can count on. They have good friends, but not too many (2-4 is the average) but they also have a network of more distant friends that support their goals and aspirations. Their framework is in order and the picture of their life is going in a direction they have projected and are trying to attain."
Counselling Guelph for many years has helped 100's of people life Picture The Life they want to have and achieve it.